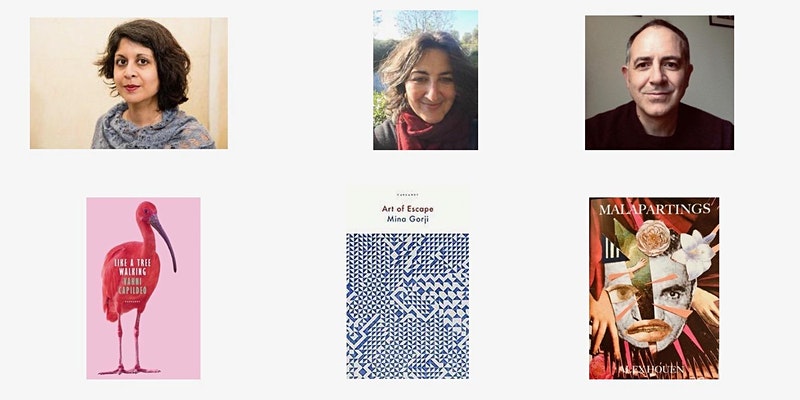 In Michaelmas 2021, Vahni (Anthony Ezekiel) Capildeo joined Mina Gorji and Alex Houen for an in-person event in the Old Library at Pembroke College to read and discuss new work.
Vahni (Anthony Ezekiel) Capildeo FRSL is Writer in Residence and Professor at the University of York, for Michaelmas Term 2021 a Visiting Scholar at Pembroke College, Cambridge, and an Honorary Student of Christ Church, Oxford. Their eighth book, Like a Tree, Walking (Carcanet, 2021), the Poetry Book Society winter choice, is published on 25 November; it ranges from the stillness of deer to the 'violent triage' of the mediatized mind. Capildeo is a Contributing Editor at PN Review, a Contributing Adviser for Blackbox Manifold, and a Lay Dominican Enquirer (Edinburgh Fraternity).
Mina Gorji's second collection will be published by Carcanet in July 2022. Her debut, Art of Escape (Carcanet, 2020) was a Telegraph 'Book of the Month'. She has published poems in Poetry Review, bathmagg and the Forward Book of Poetry amongst others. Her lyric-critical essay, 'Listening for Stars', was published in Poetry Review this autumn. She is a Fellow of Pembroke College and Associate Professor at the Faculty of English, University of Cambridge.
Alex Houen's most recent poetry chapbook is Malapartings (Equipage, 2021). His first full collection of poems, Ring Cycle, was published in 2018. He's author of two other poetry chapbooks, Rouge States (2014), and (with Geoff Gilbert) Hold! West (2016), and has published poems in various journals. He's co-editor of the online poetry journal Blackbox Manifold and teaches in Cambridge University's Faculty of English and Pembroke College, where he's a Fellow.