Leading US poet, Peter Gizzi, will be reading from his work, including from his recent new & selected poems Sky Burial (Carcanet, 2020).
Friday 6th March, 2020.
Judith E Wilson Drama Studio, Faculty of English, 9 West Road, Cambridge, CB3 9DP.
The reading will be followed by a drinks reception in the English Faculty social space.
"Gizzi can move from the ghostly flickering edge of perceptibility to focused intensity at disorienting, Dickinsonian speed. His poetry is an example of how a poet's total tonal attention can disclose new orders of sensation and meaning. His beautiful lines are full of deft archival allusion; Gizzi is gathering from the air a live tradition.' —Ben Lerner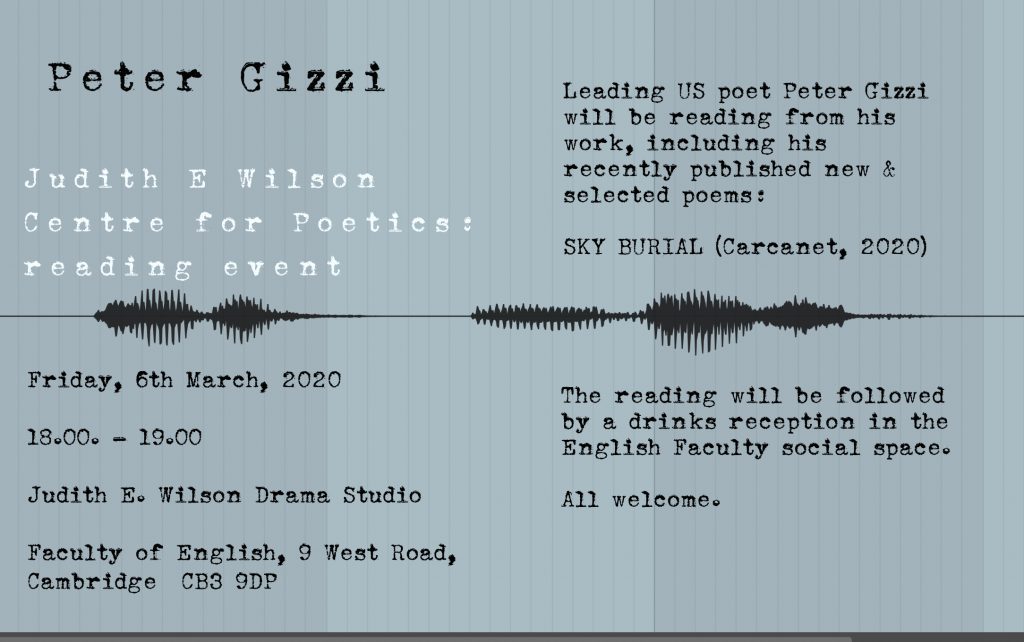 from Carcanet:
In 1995 Carcanet published The Exact Change Yearbook edited by Peter Gizzi, then at the beginning of his career. The issue featured writing by Gertrude Stein, Barbara Guest, John Wieners, Jack Spicer, (whose work Gizzi has edited), J.H. Prynne, Clark Coolidge, Michael Palmer, and other avant garde writers; it also featured portfolios of new writing from China, the Caribbean, Russia, Germany, France, Canada, and the UK, and a CD of readings by Ashbery, Brathwaite, Notley, and Berrigan. Exact Change gives an indication of the breadth of poetic interests that informs Gizzi's poetry – its scope and scale. He is a remarkable poet, and thirty years of his work are here, in Sky Burial, essentialised for a new, and reconfigured for his long-term, readership. The book includes previously uncollected work.